Elite Tuner Arizona 2019 at Peoria Sports Complex was a real treat – aside from the rain.
YouTube video is below!
For those of you still reading, let's see if I can paint a word picture.
How did Aladdins Window Tinting end up at Elite Tuner?
First, let's take a step back. Adam is my current business partner and brother. He drives a beautiful Mazda RX7 FD3S and has been in the local car scene here in AZ for close to a decade.
Adam's FD has been meticulously gone over; it's a real head turner. Over the past 6 months we have participated in and hosted car meets and car shows, which has been extremely positive on the brand awareness front and has also been super fun to get out and meet people with similar interests and passions.
Fast forward, we registered as a vendor for the Elite Tuner Arizona car show in Peoria. It was Saturday on December 7, 2019 and we closed the shop on-time at 1 p.m. I was loading the truck up with all of our promotional items, custom canopy and heat demo while Adam cleaned off his baby. James, Fadean and a couple of Fadean's friends showed up right on queue to cruise up to Peoria Sports Complex, so we hit the Loop 101 North towards Bell Rd.
Some true JDM legends were out to play.
Fadean registered his 1993 RHD Toyota Supra and his business GudScent as a vendor.
James of James Paul Photography & Media registered his 2003 Honda S2K.
Jhae Pfenning brought out his amazing VF1S Turbo NSX
Brandon was kind enough to grace with the presence of his 1995 Acura NSX.
Elite Tuner Arizona was very well organized.
When we arrived at Peoria Sports Complex a few short minutes later, things were calm. Ranger and his team had already gotten about half of the cars into the stadium. We pulled up to the spot designated for our vendor booth which was next to oneauTo; GudScent was on the other side. The lineup we had was beautiful.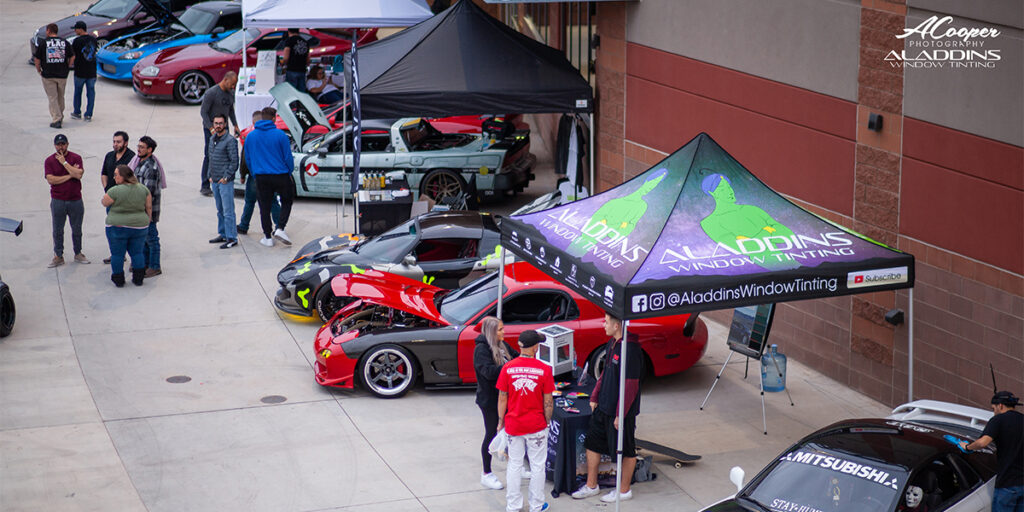 We set up our custom canopy and table with enough time get our vendor booth completed by the 2pm deadline. With three hours to kill before the show began, we all split up too get some food. It gave me a chance to walk through and check out some of the cars before any spectators arrived. There were some seriously amazing builds out that day.
Time to get this show on the road.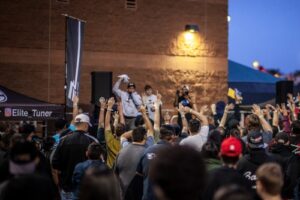 5:00 PM finally rolls around and spectators start rolling in. The weather is beautiful. It's cloudy and there's the potential for rain on the horizon but all the humans capturing content are loving the lighting conditions. I'm engaging with people as they are walking by, encouraging them to push the button on our infrared heat demo to feel the difference between our auto film lines.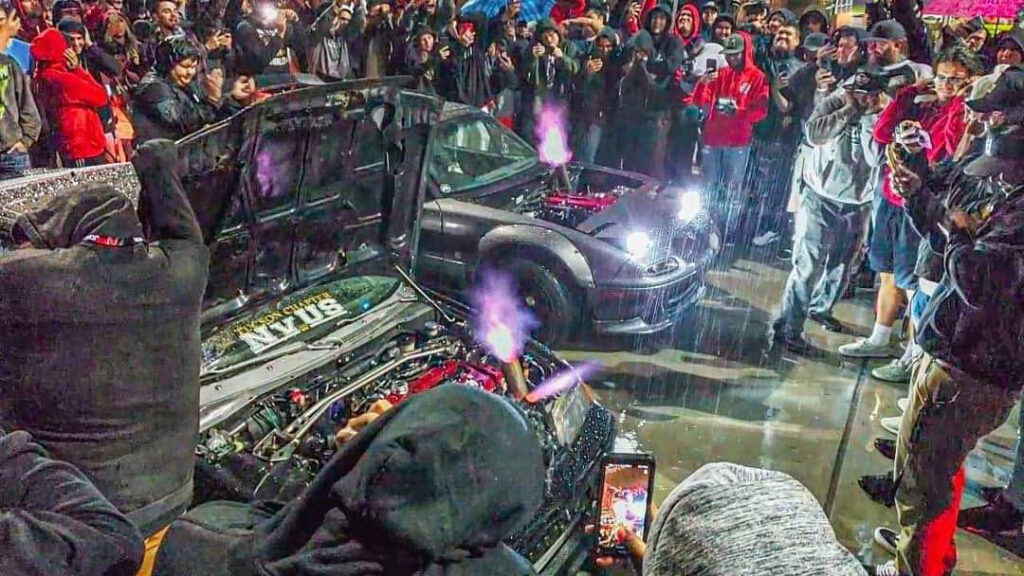 It wasn't long before a slow drizzle started. That slow drizzle turned into a steady rain which definitely resulted in less interactions with the spectators. Ranger announced the raffle winners and the rain did not seem to faze the crowd too much because the two-step competition still went off. Spectators were out in the open dripping wet, holding their phones up in the air to film the flames and extremely loud pops.
Elite Tuner 2019 winners announced.
The show concluded and the awards were presented by Ranger. I know Fadean was extremely pleased to take home first in the Best Toyota category. Jhae was awarded 1st place Best Acura and Brandon a very close 2nd Place. James was reeling 'em that night taking home 1st in Best Honda and Best Engine Bay! Adam took home 2nd place in Best Mazda (still waiting on a picture of his award!) My very good friend Will was showing an amazing car for a friend and ended up taking Best BMW and Best of Show!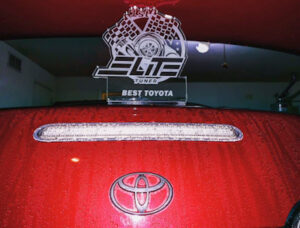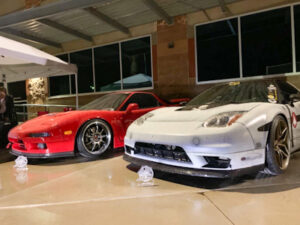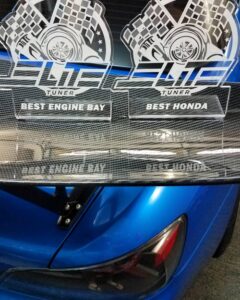 Arizona Elite Tuner in Peoria comes to a soggy end!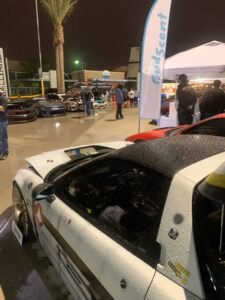 It was after 9:00 PM at this point and the rain started coming down harder and harder. Cars started to file out of the stadium while I ran out to my pickup truck. Adam started to breakdown all of our stuff however we should have left our canopy up and that would have helped to keep some of our stuff from getting so soaking wet. I got to my truck relatively quickly however the problem was getting back in – I was hoping I was going to catch a break in the cars that were filing out of the whole that was only big enough for one car to fit through, but that never happened. It felt like a lifetime, but I think about 7 minutes later I was able to get my truck back to our vendor area and get all of our stuff loaded up.
This was my first Elite Tuner show and admittedly I don't have nearly as much experience at these events as my brother, but I think he would agree that the show was pretty well organized and went off with out a hitch (that we were aware of). A special thanks to Peoria Sports Complex for hosting this event. Thank you Ranger and Elite Tuner for organizing this event and allowing us to come out an participate as a vendor. Aladdins Window Tinting will definitely be at Elite Tuner Arizona 2020.
My very good friend Will had the honor of driving Phil Mass's F80 BMW M3 (you lucky dog) and Phil's car ended up winning Best of Show and Best BMW; congratulations Phil on your awards!
Click the link below to see the album.
If you made it to the end leave a comment to prove it, thank you!