My goal is that you can find the car window tinting laws for the state in question by focusing on the areas that will most concern you. The legal limit in Arizona for the front side windows is 33% VLT and there is no restrictions on the rear windows meaning you can go as dark as you'd like.
Know The Legal Limits:
Car Window Tinting Laws
Every states' car window tinting laws are different.
The resource on which we rely whenever we need to check window tinting laws is a chart published by the IWFA (International Window Film Association).
What does VLT% mean?
There are many different reasons one chooses to tint their vehicle. One of the main factors is privacy which is measured by VLT% (Visible Light Transmission%).  It is important to understand VLT% because the window film industry uses this measurement to name their products. For example, Carbon 5, means 5% VLT (95% of the visible light is blocked).  Understanding car window tinting laws should help consumers to ensure their vehicle is compliant.
How to read the chart.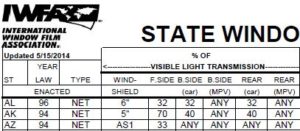 When viewing the chart focus on the columns under the 'visible light transmission', these numbers are the legal limits. In Arizona the legal limit for your front side driver/passenger (F.SIDE) windows is 33%.  There are no restrictions for the rear side windows or back-glass. The column labeled 'Windshield' refers to the visor strip which can be installed down to the AS1 marker stamped on the glass.
Need more help?
To help you interpret the IWFA State Window Tinting Rules & Laws chart as completely as possible please don't hesitate to Contact Us. Still unsure about how to read this chart? Contact your local jurisdiction as they are the final authority.  I have also included a link to Arizona Revised Statutes section 28-959.01.
– The Tint Genie